People asked him, saying: So, what shall we do?
Dear Community! I'm sure it would make you happy to be in a place where people voluntarily show their desire to know what they should do to improve things in their life, in their family, in their work, etc.
A similar episode I found today when I opened my bible and got a real scene. A spiritual awakening seemed to be in action in the Nation of Israel, after 400 years of silence... 400 years of silence? Yes, some scholars say that the white page that divides the old testament of the new one, are those 400 years of silence, there was no vision at that time, there was no prophet to guide the people, it was a spiritual darkness that everyone did what they did best it seemed to him.
Does not that sound similar? Science wants to get God out of their investigations, religious want to show interpretations in their own way, terrorist groups destroy all Christian symbols and kill innocents, supposedly out of love for what they consider an order of their god... Christian Alert !!!
Returning to Israel, a light began to shine in the midst of that darkness, a man named Juan in simple and somewhat wild clothes, burnt by the desert sun, lit the wick and those around him felt a twinge in his heart , bringing to their memories that they were wrong before God. John was not the light, but he was the one who opened the way for the light of the world to appear: Jesus Christ.
Therefore, their consciences made them express the following story:
people asked him, saying: So, what shall we do? And answering, he said unto them, He that hath two coats shall give to him that hath none; and the one who has something to eat, do the same. Some publicans also came to be baptized, and they said to him: Master, what shall we do? He said to them, "Do not demand more than what you are commanded. They also asked some soldiers, saying: And we, what shall we do? And he said to them: Do not extortion to anyone, nor slander; and content yourself with your salary.
Luke 3: 10-14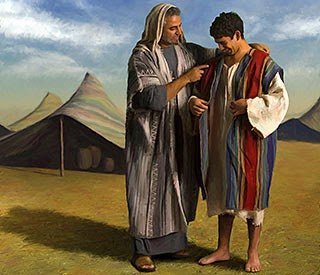 Source
The present exhortation, with its very specific indications, is the answer that the Baptist gives to those people of good will. In reference to this detail, Luke wants to help us understand better than the conversion of the heart, required to go to meet Jesus, does not consist of beautiful words and sentimentality, but in doing the will of God and above all in loving our neighbor, in solidarity with him concretely and sharing our goods when he lacks what is necessary: ​​food, clothing, home, assistance, etc.
It is the same as Jesus will teach later.
The Christian life does not consist in fundamentally long prayers and strenuous penances; It does not demand that we change our work or profession unless it is bad in itself, but that we practice love for our neighbor in the activity we do and in the state of life in which we live.
Whoever has two tunics, give one to what he does not have; and who has to eat, do the same.
Remember, and answering, he said to them: He who has two tunics, give to the one who does not have; and the one who has something to eat, do the same.
Luke 3:11
Thank you for reading this brief reflection, I am your brother in Christ: @emiliocabrera